"
Betty. Betty the Barbarian. You were forged from blue-collar sweat in the heartland of a forcibly Christian land. You are not what you came into this world as but instead a berserker and worthy of a berserker's honor. You are the standard of my world. Though it might not be your way, I honor you in the most holy way that I know. The looming locomotive is the flaming arrow that soars through the heavy air from the bow of a Viking king. Let it strike you true and light your path to Valhalla. You will dine at the table of the Hooded One. We will meet in your reincarnation. Be proud, Betty. Be proud.
"

–Mr. Wednesday's ode to Betty, "The Beguiling Man"
Several modes of Transportation are used as Shadow and Wednesday travel throughout America.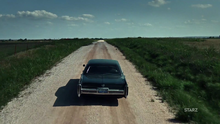 Throughout the series, Mr. Wednesday's mode of transportation is Betty, a 1966 Cadillac Fleetwood Brougham. Betty is the modern version of one of Odin's horses, possibly Gallows, who is a representation of Yggdrasil, the tree Odin hanged from in sacrifice, or Sleipnir, Odin's eight-legged war horse.
Betty's vertically stacked headlights are not slanted forward and were only available in 1965-1966 with the tail lights being different between those two model years. The Fleetwood's back windows have two pieces of glass, whereas the Sedan DeVille of the same year has only one, and the landau top was exclusive to the Brougham.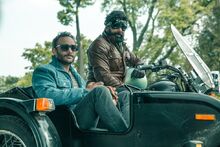 Throughout the second season, the Jinn and Salim travel together on a motorcycle with a sidecar. In "The Ways of the Dead", Mr. Wednesday reveals that it is an incarnation of Freyja's battle boar, Hildisvíni.
When Shadow first arrives in Lakeside in Chapter Nine, he meets Hinzelmann who gives him a ride in his 1920s Wendt Phoenix roadster.
In Chapter Twelve, Shadow and Wednesday use a Winnebago to travel from Wisconsin to South Dakota. They take a detour Backstage to get rid of the Spooks who are after them before meeting up with Whiskey Jack and John Chapman. Whiskey Jack trades his nephew's (Harry Bluejay) '81 Buick for their Winnebago and they return back to Lakeside after dropping John Chapman off in Sioux Falls.
In Chapter Fourteen, after Mr. Wednesday is assassinated by the New Gods, Czernobog and Mr. Nancy take Shadow to Minneapolis where they meet up with Alviss and change from the black town car they used to escape Lakeside to a 1970 VW bus.
The 1966 Cadillac has an Illinois license plate of 382 8403 in a design and numbering scheme issued after 2001.
Community content is available under
CC-BY-SA
unless otherwise noted.