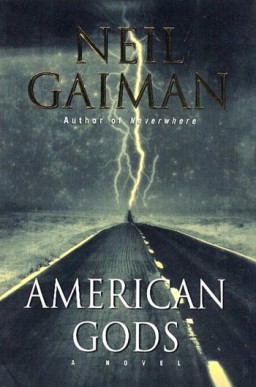 American Gods is a 2001 best-selling and award-winning fantasy novel written by English author Neil Gaiman.
(Publisher's Summary)
A storm is coming....
Locked behind bars for 3 years, Shadow did his time, quietly waiting for the magic day when he could return to Eagle Point, Indiana. A man no longer scared of what tomorrow might bring, all he wanted was to be with Laura, the wife he deeply loved, and start a new life. But just days before his release, Laura and Shadow's best friend are killed in an accident. With his life in pieces and nothing to keep him tethered, Shadow accepts a job from a beguiling stranger he meets on the way home, an enigmatic man who calls himself Mr. Wednesday. A trickster and rogue, Wednesday seems to know more about Shadow than Shadow does himself.
Life as Wednesday's bodyguard, driver, and errand boy is far more interesting and dangerous than Shadow ever imagined. It is a job that takes him on a dark and strange road trip and introduces him to a host of eccentric characters whose fates are mysteriously intertwined with his own.
Along the way, Shadow will learn that the past never dies; that everyone, including his beloved Laura, harbors secrets; and that dreams, totems, legends, and myths are more real than we know. Ultimately, he will discover that beneath the placid surface of everyday life, a storm is brewing - an epic war for the very soul of America - and that he is standing squarely in its path.[1]
Main article: Chapters
Hard copy editions
Edit
First edition
Edit
Published: June 19, 2001
Company: Headline (UK), William Morrow (US)
Notes: 480 pages
Limited edition
Edit
Published: 2003
Company: Hill House Publishers
Notes: Signed, includes additional 12,000 words, known as "author's preferred text"
10th Anniversary edition
Edit
Published: June 21, 2011
Company: William Morrow
Notes: Includes additional 12,000 words, known as "author's preferred text"
Audio editions
Edit
Unabridged
Edit
Voice: George Guidall
Released: 2001
Producer/publisher: Harper Audio
10th Anniversary
Edit
Voice: Full cast
Released: 2011
Producer/publisher: Harper Audio
The book won the 2002 Hugo, Nebula, Locus, SFX Magazine and Bram Stoker Awards, all for Best Novel, and likewise received nominations for the 2001 BSFA Award, as well as the 2002 World Fantasy, International Horror Guild and Mythopoeic, and British Fantasy awards. It won the 2003 Geffen Award.[2]
Television
Edit
Main article: American Gods (series)
The Starz series adaptation began airing the first season on April 30, 2017.
Shadow's journey continues in the novella The Monarch of the Glen and the short story Black Dog. Mr. Nancy also has a follow-up story in Anansi Boys, which started out as an idea Neil Gaiman came up with prior to writing American Gods.[3]
Neil Gaiman has stated that he is planning on writing a sequel to American Gods. [4]
When asked about product placements in American Gods, Neil Gaiman explained that the presence of numerous brands in the novel was merely a reflection of how in modern society one is often surrounded by brand names. He also specifies that he had a a lot of fun inventing plausible-sounding brands to include alongside the real ones. [5]
Neil Gaiman explained that he tried himself all of the coin tricks mentionned in the novel in order to describe them in the most realistic way (he used the manual "Bobo's Modern Coin Magic"). [6]
When asked if American Gods and his other book, "Odd and the Frost Giants", take place in the same universe, Neil Gaiman answered with "...ish". [7]
References
Edit
Community content is available under
CC-BY-SA
unless otherwise noted.